Looks like someone's been hiding Mr Tumble…. *guilty face*
H has a ridiculous amount of teddy bears in his bed at the moment ranging from his favourite Haven holidays characters, Rory and Anxious, through to Peppa and George Pig (obvs), a blue Care Bear, McVities Tarsier and his old faithful Mr Tumble.
Each night Mrs F and I go into his room just before we go bed to check he's ok (yes I know he's nearly 4 now but surely all parents do this get augmentin online until they are at least 18 don't they) and we have to take nearly all of his bears out of his bed as he battles for room against them.
I thought I'd sneakily try and take one away each night pre-bed time and hopefully he wouldn't notice…. clearly I was wrong… oops!
As always, I'm linking up with BrummyMummyof2 for this weeks Wicked Wednesdays. For more photo's from other bloggers and to see Emma's fantastic blog, click on the link below: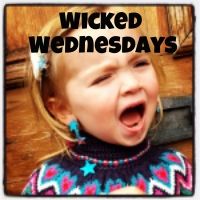 Jim x