This weeks Wicked Wednesdays photo is of D who has now well and truly mastered crawling. The spontaneous feeling of being proud that your little bundle can now crawl is quickly overtaken by the realisation that it means nothing and nowhere is safe. If you want a vase to stay straight, put in on a sideboard, the same goes for waste paper bins, nappy stations, magazine racks… everything!
She has now moved on a stage and began pulling herself up too as per the photo… I guess its time to make sure the stair gates are now closed. Poor H, he's waited for so long to have these out of action as they are so secure, even daddy can't open them at times let alone our 4 year old boy… back to living in a high augmentin usa security centre :-/
Let the fun commence… if anyone has a set of eyes in the back of their head, drop me an email, I could use them. 🙂 Watch out for a Safety special coming soon too….
As always, I'm linking up with BrummyMummyof2 for this weeks Wicked Wednesdays. For more photo's from other bloggers and to see Emma's fantastic blog, click on the link below: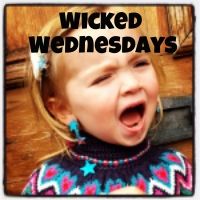 Jim
x
p.s. Don't judge the stairs like my blogging buddy Dave @
TheDadventurer
picked it up the other day. 🙂 We, like him, use our stairs as a temporary storage system which eventually make their way up or down the stairs… Does anyone else do this?